Introducing JUVÉDERM® VOLUXTM XC
As we age, we naturally start to produce less collagen. You may notice these skin changes over time. Your skin may appear thinner, drier, and less defined. If you're interested in restoring lost volume, smoothing lines, softening creases, and enhancing facial contours, filler can solve these concerns. We're excited to introduce a solution to enhance jawline definition,  JUVÉDERM® VOLUXTM XC.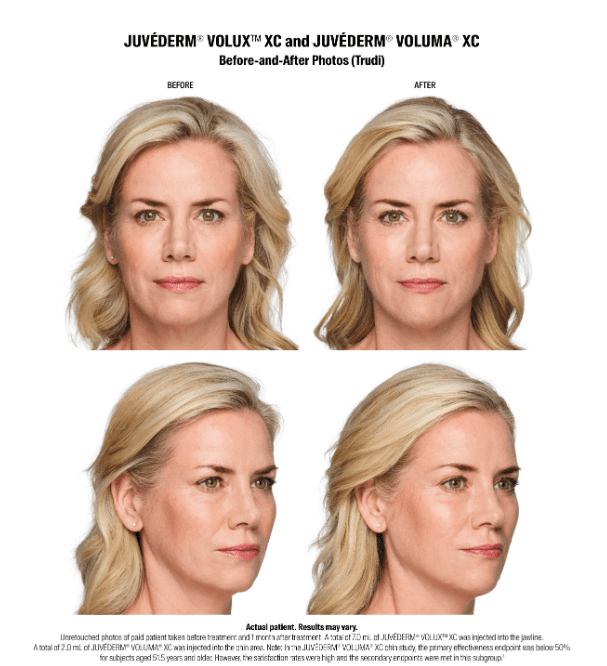 "Volux is a jawline game changer.  We finally have a filler specifically designed to give us the chiseled definition in the jaw and improve the jowls."
– Donna Abdelnour, NP
What is it?
JUVÉDERM® VOLUX™ XC injectable gel is the first and only hyaluronic acid (HA) gel used in the jawline to improve definition. HA is a substance that your body to lock in moisture, plumping up the skin's appearance to make it look more youthful.
How does it work?
JUVÉDERM® VOLUX™ XC is a clear gel that is injected directly in the jaw area to improve jawline definition. It provides volume to enhance the shape of the lower face, creating a smooth contour along the jawline. It can additionally help to reduce the appearance of jowls.
How much will I need?
Most patients will need 3-4 syringes to achieve their desired outcomes.
Can you add-on additional HerMD services?
JUVÉDERM® VOLUX™ XC can also be combined with Voluma and/or Kybella at HerMD.
Voluma is a dermal filler used to restore volume in the cheeks and enhance chin for proportionate symmetry.
Kybella  improves the appearance and profile of moderate to severe fat below the chin.

Schedule a complimentary consultation to ensure you're a good candidate for this service.